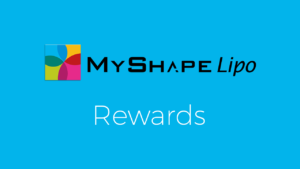 We Value YOU!!
As a valued customer or referral source, you are very valuable to MyShape Lipo and we would like to show you, not just tell you. By earning points you will have the opportunity to use your rewards for savings on future procedures.
How to earn points?
Earn 2x points by having your procedure
Earn 2x points by referring a friend after you have had your procedure
Earn 1x points by referring a friend before you have your procedure
For every dollar spent you will get a point. If you have had your procedure already you will earn points twice as fast.
Redeem Points
Amount of Discount  =  Points Required
$100 off = 4,000
$250 off = 10,000
$400 off = 16,000
$550 off = 22,000
$700 off = 28,000
$850 off = 34,000
$1000 off = 40,000
These rewards will be awarded upon full payment of your procedure and may not be used towards your deposit.  You must have the required points or more accumulated to redeem a reward.  These rewards are to be used for discounts off liposuction procedures.
Ready to Redeem Now?  Call 702-818-5476
Limitations and Restrictions:
Only one person can refer a patient.  Rewards will not be split among multiple people
When using rewards, you can only use rewards for up to 50% of your procedure fees
Rewards may only be used for liposuction fees
Two people may not refer each other
If you have already referred at least one person, no other person may earn points by referring you
You will only receive reward points for the referral's first procedure.  If the person you refer gets multiple procedures, you will only earn points for their first procedure.
The person being referred must validate that they are being referred.  Hence both people must agree to the referral.
Referral points will only be earned once the procedure has been performed.  You earn points after your procedure or you earn points after the person you refer completes their procedure.
All points must be used before your procedure is completed.  There will be no retroactive reimbursement or award of points after the procedure is completed
Points have no cash value.
There will be no transfer of points
No gifting of points
It is the patient's and the referrer's responsibility to verify reward points prior to the procedure, there will be no retroactive rewards issued to people claiming to have referred an individual 24 hours after they have had their procedure.
Points will not be allotted until the procedure is completed.
Rewards may not be used for deposit or portion of deposit.
Rewards points will be awarded for liposuction, Smart Lipo, Fat Transfer and Venus Legacy treatments.  Rewards will not be issued for fees associated with revision procedures unless it is a revision of previous liposuction from another doctor, not treated at MyShape Lipo.
May not be used with any other offers, specials or promotions.