Click To Enter Free Lipo Contest
Jeremy's Testimonial
I can honestly say that having LIPO was one of the BEST decisions I have made. Often times we workout, diet, weight loss programs and/or medications, but still cannot get the end result desired. I was a waist size 44, some years ago, and lost weight becoming a size 34, I was ecstatic. But I soon learned that it is easy to gain weight, but hard as hell to lose it, especially as you get older. My weight plateaued and no workout regimens or diet pills would help.

Free Consultation
I kept hearing about MyShape Lipo on HOT 97.5 KVEG, but never called because I thought it would be too invasive and too expensive. My last straw was when I traveled on exotic and tropical vacations I would hate what I saw in the mirror. Beach and pool events were the worst, seeing beautiful bodies, men and women, with no love handles, bloated stomachs, or excess fat. A changed needed to be made, so I made that call to MyShape Lipo.
My FREE consultation went great; very pleasant, patient, and informative staff!  I was so anxious that my procedure was scheduled for 2 weeks later, but it went by fast. Trevor Schmidt was very aggressive, precise and determined to remove as much fat as possible! I even was able to photograph with my 2.5 Liters of fat while in the recovery room.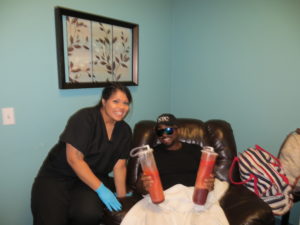 Click To Enter Free Lipo Contest
There are so many theories and misconceptions with LIPO, and most are false.  There was no significant pain during the procedure or while in recovery, just some discomfort.  I experienced some mild draining of the numbing fluids for about one week.  I also had some minor swelling.  My follow up appointments were thorough and impressive because each day I saw results.  It has been one year since my procedure, and I can testify that by doing so it allowed me to tap into myself, live my truth, and love and accept myself!  I AM VERY SATISFIED with the decision I made.  My main advice to anyone considering, "Do this for you because you want to, not allowing anyone to persuade or intimidate you!  Do not do unnecessary research on LIPO, JUST DO IT!"
Mr. Jeremy R. Washington
Grand Entertainment, LLC
Follow on FaceBook:  @MrGrandJeremy
About "Mr Grand"
Mr. Jeremy R. Washington is an independent, motivated, and full of life young man. Even through school years, he was a hard worker  He maintained Honor roll status, and went off to College to begin building his empire! In his youth, Mr. Jeremy wanted to grow up so fast, not entertaining childish desires or past times, but wanting to work, travel, mingle with adults, and stay active in Church. With his grounded upbringing, he learned quickly that in life if you want or desire something, you have to work hard to achieve it because it will not be given to you!
A Las Vegas native and Socialite, Mr. Jeremy has a big personality with an even larger heart. He is a giver of his time, energy, love and advice. "My goal and mission is to encourage the youth to know that if you remain humble and faithful, anything is possible," says Mr. Jeremy. His heart for family, friends, God, and uplifting people makes him a popular and well received gentleman amongst many across the globe!
You can call Mr. Jeremy a Dreamer and a Visionary. He does not just think it, but he puts his hands and feet to work, such as creating a well-known social event called, "Mr. Jeremy's Twist," His infamous Topic Party.  He is an Artisan Baker of "Mr. Jeremy's Homemade Sweet Potato Pies."  He's Printed & Commercial Male Model, a Published Inspirational Author of two books.    His skills and talents have made him a public figure where thousands of people follow him through social media.
He recognizes that without the support of his loving family, faithful friends, loyal Followers, and God's favor, his success would not be possible.  Which keeps him humble!
"Know Yourself, Love Yourself, Accept Yourself!" ~ Jeremy R. Washington (MrGrandJeremy)
www.MrGrandJeremy.com