Laser Cellulite Reduction
Simple Treatment, Dramatic Results
Attack Cellulite At Its Source
Are you tired of covering up your cellulite ridden thighs? The unfortunate truth is, cellulite is caused by things that are simply out of your control. As you can see in the graphic above, the cause of cellulite is not necessarily fat, but rather the stiff connective tissue fibers that pull down on the skin. Diet and exercise do not address the cause of cellulite and will likely yield minimal results because of this. Women of any size can fall victim to this problem, no one is immune. If you have tried cellulite creams, cellulite gel, cellulite exercises and still have not figured out how to remove cellulite, then you are not alone. Even the best cellulite cream is unlikely to make any noticeable difference. Celebrities with cellulite are now looking for a permanent cellulite reduction with laser cellulite treatments. Maybe it's time for you to say "goodbye cellulite."
Laser Cellulite Treatments
You already know that simple creams and lotions won't make the cellulite go away. If you want to make a significant and permanent change to your cellulite, then you should consider the laser cellulite treatment. This treatment attacks cellulite at it's root cause, the connective tissue fibers. With the use of a YAG Laser and specialized instruments, our specialist can reduce cellulite permanently. With a single treatment, Laser Cellulite Treatments can significantly and permanently reduce the appearance of cellulite in the treated area.
What You Can Expect
Your specialist will mark the area to be treated. After local numbing, tiny 2mm punctures are made in the area to be treated. Numbing solution is then spread throughout the area and a micro instrument with a laser fiber is passed under the skin. The specialist will use this instrument to:

Release the fibers that cause dimples
Melt fat to level out bumps
Stimulate production of collagen for tighter skin
Increase skins depth for thicker smoother skin
Liquified fat and excess fluids will then be pushed out and a compression garment is applied.
** This treatment tends to work better on areas of deeper isolated dimples.  If you have small widespread dimples, then treatment with the Venus Legacy would be more effective and less expensive.
How does the Laser Cellulite Treatment Work?
As you age, hormones, genetics and dramatic weight change can play a role in the appearance of cellulite. The previously mentioned factors can potentially cause the tiny bands of connective tissue under the skin to get stiff. When surrounding fat cells become larger, the stiff connective tissue can pull down on the skin and cause a dimple. As your skin gets thinner the appearance of cellulite becomes more obvious. With age this will continue to get worse and becomes more of the "cottage cheese" look that most women hate with a passion. Unfortunately, you can not control these factors no matter how many hours you spend on that treadmill or how many desserts you skip. Now you can choose a solution to your cellulite problem.
Benefits of Laser Cellulite Procedure
Reduce cellulite
Melt fat pockets
Tighten and improve skin tone
The Laser Cellulite treatment attacks cellulite at the cause. The specialized micro-instruments are used to physically release the stiff fibers that are causing dimples. In addition, the laser is used to melt the pockets of fat while it thickens and tightens the skin. Leaving the skin thicker, smoother, tighter and healthier looking.

Cellulite Before and Two Months After Treatment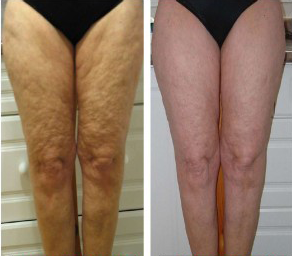 Procedure time: 1-1.5 hours
Laser Cellulite Treatment Pricing
$1500 per area.
$1000 per area when treatment is done with liposuction.